OUTPOST OF TYRANNY / JEANS ON THE 16th
Adam Larson
Caustic Logic / Guerillas Without Guns
2/20/07
The seeds of an Orange-style revolution in landlocked Belarus had been planted earlier, less than a year after Otpor's success in Belgrade when, in August 2001, US ambassador Michael Kozak helped organize a near identical campaign in Minsk. [1] Robert Helvey has also left his footprint there, according to his AEI bio, probably for this early venture but possibly at some later time. But with a weak opposition ticket and Luka maintaining moderate public loyalty, the 2001 movement failed to catch on and the election that year rolled on to an inevitable Lukashenko victory. "There will be no Kostunica in Belarus," the president declared in reference to the recent events in Serbia. [2] For the time being that was true and Lukashenko remained in power, but over the next years as Georgia and Ukraine fell with their own new leaders installed, the danger became real again as the 2006 presidential elections began to draw near.
There was a list of possible Belarusian Kostunicas – more than one could simply make disappear. There was Mikhail Marinich, an opposition politician jailed in December 2004 for allegedly stealing office equipment, charges he insisted were politically motivated, and was denied early release in September 2005. [3] There was Alexander Kazulin, leader of Social Democratic Party, who tried to crash a conference being addressed by Lukashenko in early 2006, arrested and allegedly beaten by police. [4] Most prominent among them was Alexander Milinkievic, the candidate put forth by the United Democratic Forces of Belarus (UDFB) coalition; Milinkevich would prove a key leader of the turmoil to come but has somehow escaped much jail time.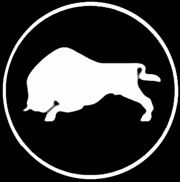 The distinctive and bold Zubr logo
Belarusian youth opposition leaders had been meeting with Otpor veterans since 2001, when Ian Traynor reported that ambassador Kozak "organised the dispatch of young opposition leaders to the Baltic, where they met up with Serbs traveling from Belgrade." [5] After these meetings, presumably in neighboring Lithuania, a youth group had emerged for that year's failed revolution. This time their simple, catchy name was "Zubr," Belarusian for Bison. As in America, the bison is a national treasure and a symbol of resolute strength, of which a Belarusian nature preserve hosts the last big herds. Metta Spencer noted in Peace "it is clear that Zubr was developed, or at least conceptualized, using Otpor as a model." [6] The group also offers Sharp's FDTD (in English) from their website, which it stresses is dedicated to "Honor! Motherland! Freedom!"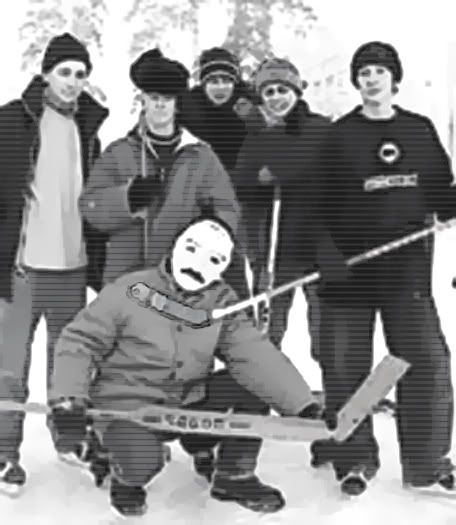 Zubr activists strike a telling pose at their 2003 hockey action
The early-rising movement was well established and active for a second time even before their Georgian counterparts in Kmara really got going. In a move reminiscent of an Otpor anti-Milosevic campaign, thousands of posters with slogan "He must go!" were glued in the center of Minsk in late January 2003. Two members were arrested for their part in this campaign. [7] To break the fear they used innovative street theater like the February 2003 hockey match that pitted a team of local Zubr kids against "Luka's" team, headed by a captain in a mustachioed goalkeeper's mask. The Zubr website reported the "team of young patriots was very rallied. In dictator's team just the opposite - every player played his own game. [The captain] was shouting at his teammates, and beating them with his stick. He was trying to show the way they must play but he was falling every time." [8]
Their protest activities seem to have sloughed off after this; Lukashenko imposed government control over all foreign funding meant for local NGOs and banned foreign funding of any political activities in the country. [9] Ambassador Kozak was rotated out to calm tensions, and replaced in September 2003 with new hand George A. Krol. Things remained fairly quiet for Zubr until the flames were fanned by Washington; Following passage of the Belarus Democracy Act in 2004 and as the 2006 election drew near, the rhetoric heightened and the noose tightened. Lukashenko's regime was listed by Secretary of State Rice, in her confirmation hearing, as one of six "outposts of tyranny," alongside North Korea, Iran, Cuba, Burma, and Zimbabwe. [10] The phrase took. "I am ashamed America has labeled us an outpost of tyranny," a Belarusian citizen told a BBC reporter during an opposition rally. "I'm here to try and change that." [11]
April 2005 saw Secretary Rice visiting first Moscow and then Vilnius, capital of rebellious former SSR Lithuania and just a few miles from the Belarus border. On the 20th, at an informal meeting of NATO foreign ministers, Rice said it was "time for a change" in that "outpost of Tyranny" next door. The comment prompted a reply from Russian Foreign Minister Sergei Lavrov, in town to represent Russia and discuss its links with NATO. Lavrov said Russia "would not advocate what some people call regime change anywhere. You cannot impose democracy from the outside." [12]
Nonetheless, a group of seven Zubr affiliates tried to cross the border into Lithuania to meet that "outside" the night of Rice's speech. They claim they were harassed, but ultimately released, by Belarusian authorities. This delayed their arrival by more than two hours, a Bush official complained. Rice greeted the dissidents at a hotel the next day, April 21, reassuring them "while it may be difficult and long and at times even far away, there will be a road to democracy in Belarus. We admire your courage, and we admire your dedication and we want you all to know you are in our thoughts." After the meeting, the youths told the media that they planned to organize a re-run of Ukraine, beginning that very autumn. Rice, at her own news conference, said the US is not calling the shots or interfering in any way other than moral. Referring to the kids she'd just met, she said "these are the people who know what's best to do." [13]
Indeed they did and were on the case within days. Early May witnessed about 100 Zubr kids demonstrating for half an hour on a main street in Minsk, holding pictures of Viktor Gonchar and then dispersing quickly before police could arrest them. [14] During the election campaign Zubr officially linked up with and leant support to opposition leader Milinkievic of the UDFB, and over the next months the politicians and their street ambassadors gradually picked up steam.
And they picked up cash contributions, down payments on and investments in the possible revolution. Jauhen Afnagel, the nominal leader of Zubr, says their funds come "from our friends, in Belarus and outside Belarus." The "inside" of Belarus, with its state-controlled economy, has none of the disgruntled, super-rich, private-sector businessmen like those that funded Ukraine's revolution, so much more aid should be expected to come from abroad. Zubr and other like-minded groups have drawn funds from, at least, the Swedish Social Democrat party, Poland-based East European Democratic Centre (IDEE), and Washington's NED. [15] A U.S. Embassy spokesperson in Minsk admitted vaguely "the U.S. government supports a broad range of youth groups and believes that the development of democratic values among youth is a priority of U.S. government assistance." A leader of Malady Front, an opposition youth movement in support of Zubr and its goals, said "through Ukraine, we have big plans for cooperation with the Soros Foundation, which […] has helped bring together many youth organizations, covering the whole of Belarus." [16]
By September - six months before Luka's 2006 presidential referendum – they had something like a revolutionary critical mass as the economy soured and new corruption scandals were broadcast by the US-funded opposition media. September 7 saw a protest at the Polish Embassy in Minsk where Pro-Russian Slavic unity protests ('neighbors should be friends') stood against the Polish-supported opposition kids of Zubr and Malady Front, declaring "Poland + Belarus = Solidarity." [17] Like Solidarity or any such transformative movement, it needed a unifying symbol or theme, the color in the revolution. Lukashenko proclaimed "in our country, there will be no pink or orange, nor even a banana revolution." Zubr's Afnagel saw defensiveness in this statement: "he keeps saying that there will be no revolution in Belarus – why would he say that if revolution is not an option?" Rumors circulated that the mutiny would be called the Cornflower Revolution, named for a ubiquitous blue flower in Belarus. "It is too early to say what color the revolution will have," Afnagel said in early September. "The color is not important. It is not even important whether it will be a revolution or some kind of a change." [18]
The final inspiration this time came from a September 16 public demonstration marking the 6-year anniversary of the disappearance of Viktor Gonchar. After Belarusian police seized the banned red and white old Belarusian flags flown by the opposition, Zubr activist Mikita Sasim reportedly raised his denim shirt, declaring it their new flag. Conveniently, there is also the well-known association of denim with Western culture, immediately recognized by the opposition as a symbol of protest against Lukashenko's Soviet-style policies and identification with USA, Elvis, and NATO. After this an unofficial custom emerged for Zubrs to wear jeans or jean jackets on the 16th of each month to memorialize Gonchar and the missing others, and thus the "Jeans Revolution," or "Denim Revolution" was named.
In December, the parliament approved tough new penalties for those who would try to change the government or even pass out information regarded as "harmful to national interests." In the early months of 2006, dozens of Zubrs were arrested at their many demonstrations and actions. There were reports of harassment of "Zubrs" going about their other activities; some were jailed for minor offenses, or imprisoned for drugs planted on them by security officers. More replaced them, and while it was no Kiev, they were determined to claim victory either by the ballot or, failing that, by the Jeans Revolution.
Sources: