Adam Larson
Caustic Logic/Guerillas Without Guns
April 11 2007
The president of the Albert Einstein Institution as of 2006 is retired US Army Colonel Robert Helvey, a longtime proponent of Sharp's theories. More than anyone else it has been Helvey who has weaponized his mentor's ideas of nonviolent conflict and put it to use in the field. He holds a BA and MA from Marshall University, is a graduate of the US Army Command and General Staff College, and US Navy War College. [1] He has 30 years of experience in Southeast Asia, including two tours of duty in Vietnam (awarded the Distinguished Service Cross, January 1968). [2] Helvey has also worked with the U.S. Defense Intelligence College, which is in turn connected to the Defense Intelligence Agency (DIA) in which he was reportedly an officer. [3] Exact details of his life and career remain somewhat vague, but among other posts he held, from 1983 until 1985 Helvey was a US military attaché at the American Embassy in Rangoon, the capital of Burma. The Colonel later described how he became dismayed by the utter futility of the two-decade-old US-backed armed struggle against the military dictatorship there. [4]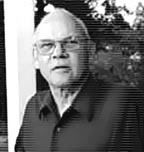 Col. Robert Helvey, leading strategist of nonviolent struggle.
He spent his last years of military service mulling over this dilemma, the final year in an academic setting. Curiously, he wound up with a senior fellowship at Harvard's Center for International Affairs, where he happened to hear about a lecture on nonviolent sanctions to be given by the department's esteemed professor Gene Sharp. Helvey later recalled how Sharp "started out the seminar by saying 'Strategic nonviolent struggle is all about political power," spurring Helvey to muse "Boy is this guy speaking my language, that is what armed struggle is about." [5] An article from Peace magazine, April 2003 explained:
"From conversations with Sharp and like-minded colleagues at the Albert Einstein Institution, Helvey learned a systematic strategy of resistance. For example, he learned to avoid exposed situations that could lead to heavy casualties such as the protest in 1988 when 3,000 unarmed students were massacred in Rangoon. He came to see that even greater pressure could be applied to the regime with less risky tactics, such as having people simply stay at home during a general strike."
[6]
After officially retiring from the Army in 1991, Helvey took Sharp's ideas to a wider audience of influential people. He soon secured funding to go back to Burma to spread his message and, if possible, test the technique. From 1992-98 Helvey made over a dozen trips to the Thai-Burmese border to meet with leaders of pro-democracy groups there. He developed and taught a six-week course, with students cycling through in shifts to work on confidence building, identifying the regime's weaknesses, and forming "usable pressure groups." When confronted by Burmese leaders who scoffed at non-violence against the thugs in charge, Helvey started using the more militant-sounding phrase "political defiance," which, he stressed, "like military struggle, is both an art and a science. To be effective, it must be studied and carried out with skill and discipline." [7]
The training Helvey brought to Burma is still used, in line as it is with the non-violent tactics stressed by "the Lady," Aung San Suu Kyi, daughter of Modern Burma's founding father. Helvey describes Suu Kyi, under house arrest for years, as "the symbol of the entire pro-democracy movement. Without her, the movement has not demonstrated the ability to take on strategic struggle." It was reportedly at Suu Kyi's urging that Sharp's book FDTD was translated, published, and smuggled into Burma. [8] So far the repressive regime is still in power, but Suu Kyi maintains a strong following and has gradually been given more freedom, and thankfully there have been no more massacres like the one in 1988. But direct success or not, Helvey adopted and championed Sharp's approach to winning conflicts, retired and became a man of peace heading the AEI as it embarked on its many adventures. Over the following years and the course of this book, Helvey would fulfill an important niche in the real-world implementation of Sharp's ideas in over a half-dozen countries. Some of his handiwork will play a role in the following chapters.
Next:

The American End: Overt Ops/A Bi-Partisan Effort

Sources:
[1] About AEI > Staff & Board > Bob Helvey, President. Accessed at: http://www.aeinstein.org/organizations.php3?action=printContentItem&orgid=88&typeID=7&itemID=48&User_Session=346723d93fdd7b3f54352c8c92b94d2f
[2] First Cavalry Division Distiguished Service cross Recipients. Acc. June 12 2006 at: http://www.1stcavmedic.com/DSC-CAV.htm
[3] Mowat, Jonathan. "Coup d'État in Disguise: Washington's New World Order "Democratization" Template."
GlobalResearch.ca February 9, 2005. http://www.globalresearch.ca/index.php?context=viewArticle&code=MOW20050209&articleId=437
[4], [6], [7] Bacher, John. "Robert Helvey's Expert Political Defiance." Peace Magazine Apr-Jun 2003, p.10. http://www.peacemagazine.org/archive/v19n2p10.htm
[5] Mowat, Jonathan. "The new Gladio in action? Ukrainian postmodern coup completes testing of new template." Online Journal. March 19 2005. http://www.onlinejournal.org/Special_Reports/031905Mowat-1/031905mowat-1.html
[8] Rozen, Laura. "Dictator downturn: It just isn't as easy being a tyrant as it used to be." Salon. February 3 2001.
http://archive.salon.com/news/feature/2001/02/03/dictators/print.html