Adam Larson
Caustic Logic/Guerillas Without Guns
November 2006
Re-posted 4/23/07
Turkmenistan is an interesting case, nearly 5 million inhabitants, 98% Muslim, in the former Soviet space, on the Caspian, and ruled by perhaps the most bizarre and repressive dictator in the region. And yet it is a nation remarkably undisturbed by the democracy guerillas that had struck further west in Georgia and Ukraine, an ambiguous "revolution" as per Kyrgyzstan's "tulip Revolution," or Andijan-style unrest as happened further east. It is the calm at the eye of the Central Asian storm.
Rich in natural resources but with per-capita incomes at sub-Saharan African levels, the country is held under the effectively permanent rule of dictator Saparmyrat Niyazov, or "Turkmenbashi" (father of the Turkmen people) as he calls himself. Niyazov first assumed leadership of the Turkmen Communist party in 1985, and thus headed the government of the Soviet Republic during its last years. The republic of Turkmenistan declared independence in 1991 just before the collapse of the USSR and soon joined the CIS, signing the divorce papers as it were along with the other republics. Afterwards though Niyazov and the government at Ashkabad refused to join any other such organization, in pursuit of a "status of permanent neutrality," which was accepted by the UN General Assembly in December 1995. The country retained its membership in Russia's CIS, though never agreeing to the mutual defense clause that later morphed into the CSTO, and in August 2005, Turkmenbashi downgraded the country officially to CIS "Associate Member," an exclusive sort of friendly non-membership. [1]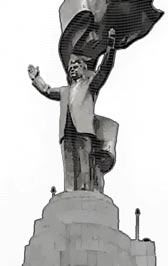 One of the many tributes erected to and by the great "Turkmenbashi"
Like Nazarbayev in Kazakhstan, Turkmenbashi has instead focused on apolitical pipeline diplomacy, since independence encouraging foreign investment in its oil and gas reserves. Niyazov works with everybody, West and East, boasting huge deals with Russia's Gazprom, planning pipeline to China, and hoping for Western sponsored paths south through Afghanistan. The city of Krasnovodsk on the Caspian coast was named in 1993 "Turkmenbashi" after the President and served as the oil hub, commercial capital, and center of ego for the country. While cooperative with western economies, Niyazov is not the model of a democratic leader by a long shot, with arguably the worst record on democracy is in the region. The city naming is a telling sign of what most observers agree is Niyazov's cult of personality; in the manner of Stalin or Hussein he has monuments and portraits of himself erected everywhere to remind citizens of their beneficent ruler.
In 1992 Turkmenistan's first post-independence constitution enshrined Niyazov as head of government as well as head of state – President and Prime Minister. He promised on taking the post that within a decade all Turkmen families would own a house and a car. He was later re-elected to the post in a direct popular ballot in which he stood unopposed, and his rule was extended indefinitely in 1999, with parliament giving Niyazov the legal right to rule for life with no need for elections. [2] He modified this the following year, announcing that he would step down by no later than 2010, after reaching the age of 70. In early 2003 Niyazov started making good on his cars promise, handing out free Mercedes-Benzs to top officials whose loyalty he needed, just as he announced a new commission, as the BBC described, "to monitor foreign trips by politicians, and to track the movements of foreigners within Turkmenistan." [3]
The BBC's official timeline of Turkmenistan notes the idiosyncratic nature of his rule, marked by ironic choices of a ruler undisturbed in his delusions. In August 2002 Niyazov ordered the months of the year renamed after himself, his mother and his spiritual guide, the Ruhnama. In August 2004 he ordered construction of a grandiose ice palace in the middle of the Turkmen desert, and in November had to explain this project at a Turkmen-Uzbek summit on water resources. And in February 2005 the president went under the knife for eye surgery, just after suggesting all Turkmen hospitals other than those in capital should be closed to save money. [4]
Niyazov's total suppression of opposition is unparalleled: In November 2002 the president easily survived an armed attack on his presidential motorcade as it drove through Ashkabad. Authorities blamed "mercenaries" acting for exiled opposition leaders who in turn accuse Niyazov of arranging the incident as excuse to crack down. Within the month opposition activist and former foreign minister Boris Shikhmuradov was arrested, accused of masterminding the attack and sentenced to life imprisonment. More than 40 others were convicted and jailed along with him. Another crackdown in mid-2005 saw Deputy Prime Minister Elly Kurbanmuradov, a senior figure in the energy sector, sacked and jailed for 25 years on corruption charges, and Rejep Saparov sacked as head of presidential administration and sentenced to 20 years in jail for corruption. [5]
Thus Turkmenistan has avoided the destabilizing aspects of divisive politics and continues to provide a perfect totalitarian state with its enforced stability, everything the West claims to be against. Indeed, the US State Department and the rest admit the truth of Niyazov's regime – Freedom House, banned from the country, listed it in 2005 as "not free," noting "Turkmenistan remained one of the most repressive societies in the world" in 2005. [6] Yet we see no reports of real US aid to opposition parties, training of youth movements or the like – no Kostunica or Saakashvili reported here, no Otpor-Kmara-Pora-Zubr equivalent reported.
Some would argue that state repression is to blame for the lack of democratic activism, and certainly the evidence is there. But there are other factors at work – Belarus is remarkably oppressive and hard-line as well, but Zubr and Malady Front have thrived with Western support and coordinated diplomatic offensives, launching campaigns every other year for the six years now (2001, 2003, 2005-06). But Turkmenistan, with even less democracy and a more unreasonable ruler, has remained remarkably quiet. And as far as diplomatic pressure, sanctions and trade restrictions, pressure has not been applied on these levels either to any meaningful degree as has happened in Belarus. Turkmenistan was not listed as an "outpost of tyranny."
It's perhaps no coincidence that Niyazov is also an enthusiastic, long-term partner in US drive to tap the Caspian – had been party to Unocal's Turkmen-Afghan-Pakistan pipeline. Back in 1995 Niyazov and Pakistan's PM Benazir Bhutto commissioned a feasibility study of Afghan pipeline. [7] Both leaders had initially backed a rival pipeline offered by Argentine company Bridas, and Niyazov signed an exclusive contract with them. But while it took something like a coup to get Pakistan's mind to change, Niyazov was then the first to see the potential in Unocal's version and broke his contract with Bridas, who later sued Unocal for $15 billion, finally awarded $47 million in 1998. They tried suing Unocal in Texas also, but the international court threw the case out, saying they had no jurisdiction; the case was based on Turkmen law; which it turns out is basically Niyazov's whim. [8] Unocal spokesman John Maresca later noted with no apparent irony that the region was "dynamic and changing. Business contracts can be rescinded without warning." [9]
Niyazov's switch shows both his ambition and his impatience. Ahmed Rashid, in his book Taliban, revealed the hopes that Niyazov had nurtured that Turkmenistan's oil and gas exports would make his country "the new Kuwait," as he described it back in 1991 (interestingly, just as Kuwait was recovering from an invasion with U.S. help.) Niyazov is self-interested enough to be a constant ally of whoever supports the project and offers him the highest return on his nation's investment. And the backing of the U.S. government is certainly a plus for any pipeline plan in the post-Cold-War world. It could also help him deliver on that Mercedes promise. Rashid noted "Niyazov saw that Unocal could become the means to engage a major U.S. company and the Clinton administration in Turkmenistan's development." [10] And he was putting his own country's neck on the line; the government of Turkmenistan was listed as a financial partner in the CENTGAS consortium, holding a 7% stake scraped together from the nation's scant funds. [11]
After the worst of the afghan campaign passed in early 2002, it was reported that "with the demise of the Taliban, talk of a new pipeline has begun to resurface." [12] But even as Niyazov rules undisturbed in dreamland, the TAP pipeline has still not come to fruition by late 2006, with a new insurgency in Afghanistan rivaling anything since the fall of the Taliban just as world oil prices surged and made the pipeline yet more desirable.
Postscript: Turkmenbashi is dead. He expired from heart attack on December 20 2006. Under the constitution, the Parliament chairman Ovezgeldy Atayev should have become the interim leader, but deputy prime minister Gurbanguly Berdymukhamedov was named instead on the 22nd. He explained that Mr Atayev had been sacked after a criminal probe was opened into his activities on the 21st. [13]

Sources:
[1] REF/RL "CIS: Turkmenistan Reduces Ties To 'Associate Member.'" August 29, 2005. Acc. June 21 2006 at: http://www.rferl.org/featuresarticle/2005/08/26dab4c9-5ba1-4193-86e7-62fc991f8a6c.html
[2]"Turkmen leader to rename calendar." BBC News. August 8 2002. http://news.bbc.co.uk/1/hi/world/asia-pacific/2181151.stm
[3] "Top Turkmens to get free Mercs." BBC News. February 5 2003. http://news.bbc.co.uk/1/hi/business/2729053.stm
[4] "Turkmenistan: Profile." BBC News. http://news.bbc.co.uk/1/hi/world/asia-pacific/country_profiles/1298522.stm
[5] various - google the names
[6] Turkmenistan – 2005 Overview. Freedom House. http://www.freedomhouse.org/template.cfm?page=22&year=2005&country=6852
[7] "Timeline of Competition between Unocal and Bridas for the Afghanistan Pipeline." World Press Review. December 2001. http://www.worldpress.org/specials/pp/pipeline_timeline.htm. Accessed via: http://www.hartford-hwp.com/archives/51/119.html
[8], [10] Rashid, Ahmed. "Taliban." 2001.
[9] Maresca, John J. Testimony to Hose Subcommittee on International Relations. February 1998. Accessed January 9, 2005 at: http://propagandamatrix.com/testimony_by_john_j_maresca.html
[11], [12] Blagov, Sergei. "Bold Turkmen project in the pipeline again." Asia Times. February 9 2002. http://www.atimes.com/c-asia/DB19Ag01.html
[13] "Turkmen leader pledges stability." BBC News. December 22 2006. http://news.bbc.co.uk/1/hi/world/asia-pacific/6204561.stm